Convention
The Texas Carnival Glass Club holds its annual four-day convention in March. Events include educational seminars and banquet program featuring internationally known speakers, carnival glass displays, silent auction, dealers and club members selling carnival glass, and a public auction of Carnival Glass.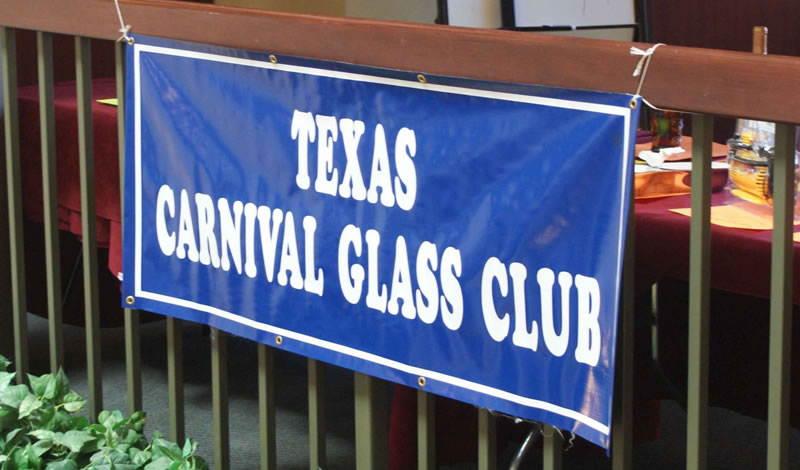 SAVE THE DATE FOR OUR TEXAS CARNIVAL GLASS CLUB 2024 CONVENTION - MARCH 6-9

LOCATION

Washington County Expo Event Center, 1305 East Blue Bell Road, Brenham, Texas
Note: All convention activities will take place in the Event Center
DATE
March 6-9, 2024
LODGING
Convention Hotel: Hampton Inn and Suites, 2605 Shulte Boulevard, Brenham, Texas 77833. Tel: 979-337-9898.

DEADLINE TO RESERVE A ROOM IS FEBRUARY 19, 2024 – MAKE YOUR RESERVATION EARLY – Spring Antique Week in Round Top begins shortly after our convention.

Please Note: To ensure that you are part of our room block please book your room directly with the hotel (see instructions below):

Room Rates:
Single or Double - $119 (plus tax) - for Tuesday, March 5 through Saturday, March 9. If you need to extend your stay please check with the hotel. The hotel will honor the room rate if rooms are available.

Breakfast is included in the price of the room. Each room is equipped with a microwave and a mini fridge, King Suite rooms include a sleeper sofa.
Pet Policy: This is pet friendly hotel. There is a $75.00 Non-refundable Fee for 1-4 nights. $125 Non-refundable fee for 5+ nights. 2 pets maximum. ADA service animals are welcome.

Reserve your Room: Call the Hampton Inn and Suites at 979-337-9898 and tell them you are with the Texas Carnival Glass Club room block.
Hotel Deadline: Monday, February 19th. Cancellations will be accepted up to 4:00 PM the day of arrival.

REGISTER FOR THE CONVENTION
Click here to download a convention registration/membership form. Print the form, fill it in, and mail it with your check to the address on the form.
download adobe reader

2024 CONVENTION EVENT HIGHLIGHTS
Note: All convention activities will take place in the Event Center. Casual Dress encouraged.
Wednesday, March 6
1:30 p.m. Event Center Set Up by Board and Volunteers. Hotel check-in @3:00 p.m.
6:30 p.m. Dinner on your own or join us at Los Cabos Mexican Grill

Thursday, March 7
9:00 a.m. Event center open for setting up Displays, Glass for Sale, and Silent Auction
10:00 a.m. Convention Registration
11:30 p.m. Lunch provided
1:00 p.m. Seminar, "Dugan's Diamonds," by Cale Wilcox, Wylie, Texas and Dorothy Morgan, Brenham, Texas
2:30 p.m. Our hilarious "Annual Gift Exchange"
6:00 p.m. Whitley Award Dinner honoring Fred and Elaine Blair, Allen, Texas
Friday, March 8
9:00 a.m. Event center open
9:00 a.m. to 10:30 a.m. Open House, Emmett and Dorothy Morgan
12:00 p.m. Lunch provided
1:30 p.m. Annual Business Meeting and Election of Officers
Presentation of Allstar Award followed by "Show & Tell—A Texas Tradition"
4:00 p.m. Display voting closes. Vote for your favorite Display – Best of Show receives $100!
Silent Auction closes – Bid on and win your favorite pieces
6:30 p.m. Display Contest Awards and Silent Auction Results
Banquet presentation, "Collecting Iridescence," by Rod Kaps, Thomasville, Alabama
Distribute 45th Anniversary 474 Club Souvenir Vases / 474 Whimsy Auction
Saturday, March 9
7:30 - 9:30 a.m. Seeck Auction Preview followed by Seeck Auction of the Cherry and late Norm Angell collection.

2024 CONVENTION AUCTION
Seeck Auctions is bringing us another outstanding auction of carnival glass for our 2024 Convention - the collection of the Cherry and late Norm Angell. Cherry and Norm collected for many years and have a fantastic variety of outstanding pieces. Their collection includes a fabulous marigold Christmas Compote, a super purple Poppy Show vase, a large collection of Tornado vases, and many more including Hobnail Swirl, Funeral, and several rare unswung vases.


2023 CONVENTION AUCTION
A few of the outstanding pieces that sold at our 2023 convention auction.
2022 TCGC CONVENTION RECAP
The Convention that nearly wasn't . . .
TCGC 2022 Carnival Glass Convention

As you know the emergence of Covid-19 pretty well put an end to social activities, carnival glass conventions were no exception. The Texas club was scheduled to be in Dallas for its annual convention mid-March 2020. At the last minute the convention was cancelled due to Covid restrictions. Then March 2021 rolled around and it became clear no normal convention could be scheduled so the board members put together a plan for a one day event in Brenham, Texas. We had good attendance, the Seeck's brought the auction glass, and attendees had a good time.

After the 2021 one-day-special we began planning the 2022 convention back in Dallas at the normal hotel. Registrations were good, speakers lined up, spirits high. And then a show-stopper situation occurred. One of our members learned the hotel was closing just prior to our convention and hadn't bothered to notify us. Their plans were to reposition us to a different facility in the Dallas area, a facility about which we knew nothing. We were a month from the convention and clearly needed a new venue. Again the board members jumped into action. Arrangements were quickly made to use a building at the Washington County fairgrounds in Brenham. Very large room, kitchen and bathroom facilities, good lighting, plenty of tables and chairs. It would be different, but it might work.

With enthusiasm and cooperation from one and all the 2022 Texas convention came together in a single room at the fairgrounds in Brenham. The room was essentially divided into quarters. One quarter set up for the auction glass, one quarter set up for seminars, one quarter set up for glass displays and sales, and one quarter set up for food, socializing and simply taking a break. Of course the motels for overnight staying were a short distance away and not available to run to for a quick rest. But attendees did not find that to be a problem. Instead they were in a room in the middle of the action and could see and spend time with other attendees all day long. So how did it go?

Our first seminar "I've got the Northwood Blues ... and Greens" was presented by Gary Sullivan and Steve Lindquist, of course they travelled all the way from Connecticut with a car load of beautiful glass. It was very nice having them in attendance and the crowd enjoyed the glass and presentation immensely.
Thursday evening we enjoyed the Whitley Award dinner. A little less formal in this new environment, but enjoyed by one and all. Of course the highlight was the surprise announcement by Tommy Whitley that the 2022 award winners were Bob and Sandy Sage. A well-received recognition of the energy and enthusiasm they have consistently shared with those in or interested in the carnival collecting hobby.

On Friday we had the traditional Texas 'Show-n-Tell' session, a business meeting, closure of our Silent Auction, preview of the auction glass and our annual banquet. And yes, the banquet was held right in our big room. Wonderfully catered by a small Texas company from a nearby community. Our banquet presentation "Our Favorite Vases" was presented by Tony and Mary Jo DeMichael who did not have to travel all the way from Illinois as they now reside in Aledo, TX.

Saturday morning was the Seeck auction of the glass collection of Philip and the late Marion Ross. Some beautiful and interesting glass. The highlight of the auction might be the price brought by a Millersburg tri-corner marigold Zig Zag bowl on which the bidding finally stopped at $14,500.

So how did the attendees feel about having a three day convention in a building on the Washington County Fairgrounds in Brenham, Texas? 100% in favor of going back to this venue for the 2023 convention!

2021 TCGC CONVENTION RECAP
Although we were not able to have a traditional convention this year, we did hold a great in-person mini convention and auction in Brenham, Texas, March 19-20. A preview was held on Friday afternoon of the 350 piece auction brought by Jim and Jan Seeck. That evening Emmett and Dorothy Morgan hosted dinner at their home with at least 24 attending. Everyone had a great time and enjoyed both the meal and catching up with friends.

The auction on Saturday morning was well attended with 30 people in the auction room. We all thoroughly enjoyed the mooing of the cows during the auction at our Sales Facility. A FABULOUS pastel marigold Embroidered Mums bowl went for $1700 and many people in the auction room were asking who won it. It was won by Tommy and Jeannie Whitley who were not present for the bidding as they were scheduled for their second Covid shot on the day of the auction.

Following the auction we were able to show off our latest finds at a traditional Show and Tell. Everyone was invited back to the Morgan's home on Saturday evening for another dinner, libations and fellowship. Many thanks to Dorothy and Shirley Patterson for preparing and serving the dinners, to Jim and Jan Seeck for bringing a great auction, and to all who attended.

2021 CONVENTION SHOW AND TELL
Please enjoy the photos of our 2021 Convention Show and Tell participants and their glass. Click on (or hover your mouse over) the photos for more information.


2021 CONVENTION AUCTION PRICES
Click on (or hover your mouse over) the images below to see a few of the prices realized at our March 29th Convention auction. For a complete list of prices go to: https://seeckauction.hibid.com/catalog/268399/carnival-glass-online-only-auction--217---ends-mar-20---2021/
---
2020 Convention Recap
Just before we made the decision to pull the plug on our 2020 Convention we were contacted by TCGC member Brian Foster. Brian proposed that we leverage his expertise and technology to have the convention go virtual. This included having our annual Show & Tell event, a taped banquet presentation, a taped educational seminar, and a live conversation concurrent with Jim and Jan Seeck during our TCGC convention online auction. We think it was a huge success and the results are in the videos below. A big thanks to Brian & James Foster, Kathi & Galen Johnson, and Mary Jo & Tony DeMichael for taking this on and turning what was a monumental disappointment (due to Covid-19) into a new adventure with plenty of upside for all of us going forward.

2020 Convention Videos
What follows are videos of the live and taped events that were posted on our Texas Carnival Glass Club Group Facebook page.
"Show and Tell - A Texas Tradition"
Click Here
Educational Demonstration, "Christmas Compote Mould," by Brian Foster of Arlington, Texas
Click Here
TCGC Banquet Luncheon Presentation, "Carnival Family Trees, " by Tony and Mary Jo DeMichael of Taylorvile, Illinois
Click Here
March 20th Convention - Seeck Online Only Auction Results
Click Here