Convention
The Texas Carnival Glass Club holds its annual four-day convention in March. Events include educational seminars and banquet program featuring internationally known speakers, carnival glass displays, silent auction, dealers and club members selling carnival glass, and a public auction of Carnival Glass.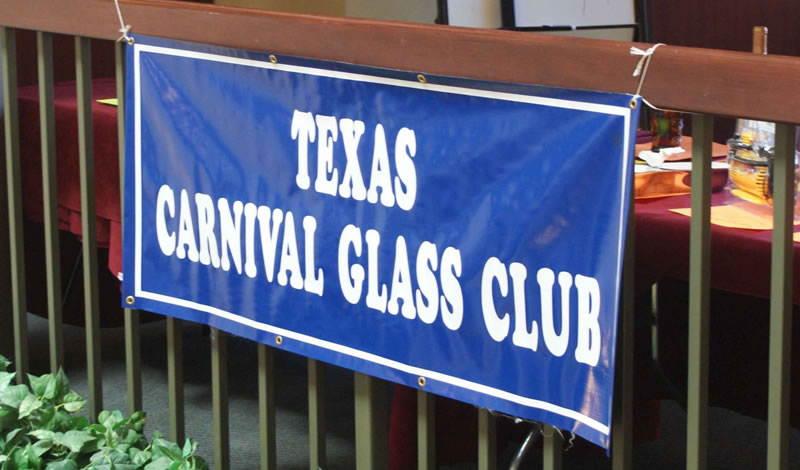 2021 TCGC CONVENTION CANCELED
TCGC club members and friends. Unfortunately, based on what we know at this time, there is not a safe path that will allow us to proceed with our spring Convention. Currently the city of Dallas has quantified the Covid-19 Risk Level is at its highest point (Stay Home & Stay Safe) and has strict distancing orders for hotels and businesses. We would not be able to have traditional events of Show & Tell, Gift Exchange, Banquets, or host our Hospitality room. Past convention attendees replied to our October Survey Monkey and results indicated that less than 50% of what we would normally expect would plan on attending given the current environments. I wish our crystal (carnival crystal of course) ball would show otherwise but sadly it does not. At the end of the day, we feel the responsibility for our attendees and our club and will be canceling our 2021 Convention.
We appreciate the wonderful folks who were scheduled to speak at our 2020 convention and again at our 2021 convention – THANK YOU!
Brian Foster, Arlington, TX: "Christmas Compote Mould Demonstration"
Sue Davis, Wills Point, TX: "A Unique Look at Vaseline Glass"
Mary Jo and Tony DeMichael, Aledo, TX: "Carnival Family Trees"

2021 Convention Auction
The TCGC Convention auction will be a Seeck Online Only auction on Saturday, March 20, 2021, in Brenham, TX

Mark your calendars as Seeck Auctions is bringing the 350 piece TCGC convention auction glass to Brenham, TX. This will be an online only auction starting at 10 AM Saturday March 20 at the Washington County Fair Grounds Sale Facility. Preview will be at 8:00 AM. The facility is large which will allow appropriate COIVD protocols and social distancing and it may be some of us will have received our vaccines by that time as well. Good WIFI is available. The address is 1305 E. Blue Bell Road. The Sale Facility is located on Old Independence Road across the street from the Sheriff's Department.

The glass will be available for early preview on Friday from 2:00PM until 6:00PM. Saturday preview will open at 8:00AM and the auction will start at 10:0AM. The auction will have approximately 370 lots and should end about 1:00 PM.

Your club will provide a sack lunch and beverages for each attendee. You must confirm either by email ecmorgan@alpha1.net or my phone 713-857-2966 your one selection per person from below. If you have to cancel please contact me by March 17th. If you would like, you can bring your own food and beverages.
Turkey & Swiss on whole wheat bread & chips
Roast Beef & Swiss on whole wheat bread & chips
Chicken Salad on whole wheat bread & chips

Show & Tell has always been a tradition at our meetings and conventions. Show and Tell will be held after the auction. We should start about 2:00PM. This should give you time to pay for your new treasures. Please bring a piece or two to show off.

Looking for a hotel in Brenham? See below. Make your reservations early, the hotels are booking up for the Round Top Warrenton Antique Show.

Comfort Suites
2350 S. Day Street
Brenham, TX
979-421-8100
ComfortSuites .com
Rates: King or 2 Queens - $106.00 per night does not include taxes
Baymont Brenham
2950 Wood Ridge
Brenham, TX
979-836-5551
Email: baymontbrenham2@gmail.com
Hotel ID: 52188
Rates: King $129.00 per night; Double Queen $139.00 per night does not include taxes
Holiday Inn Express & Suites
2685 Schulte Blvd
Brenham, TX
979-830-5331
Rates: King $186.00 per night: Double Queen $196.00 per night does not include taxes
Please Note: If you plan to sell glass in our November TCGC Fall Online Only auction this will be your best opportunity to bring it to Jim and Jan Seeck.

We look forward to seeing you at the auction and enjoying a great day with friends in Brenham.


Please check www.seeckauction.com for updates. In the meantime, enjoy these preview photos of some of the beautiful glass that will be in our March 20th auction.
---
2020 Convention Recap
As we all now know the Covid-19 virus forced a cancellation of our annual TCGC Convention this year. We pulled the plug on our event on Friday, March 13, five days prior to the start of the convention. It was touch and go during the decision-making process and when we finally made the call the entire state of Texas had only 68 confirmed cases. In the end we took a "better safe than sorry" approach for our convention attendees.
Fast forward 24 hours later and our club president, Emmett Morgan, got a call from TCGC member, Brian Foster. Brian proposed we leverage his expertise and technology to have the TCGC convention go virtual. The base proposal was to have our standing Show & Tell event, a taped banquet presentation, and a live conversation concurrent with Jim and Jan Seeck during our TCGC convention online auction. After a few trial and error sessions with a good number of our members (thank you all so much) we were ready! A huge thanks to Brian & James Foster, Kathi & Galen Johnson, and Mary Jo & Tony DeMichael for taking this on and turning what was a monumental disappointment into a new adventure with plenty of upside for all of us going forward.

Convention Videos
What follows are videos of the live and taped events that were posted on our Texas Carnival Glass Club Group Facebook page.
"Show and Tell - A Texas Tradition"
Click Here
Educational Demonstration, "Christmas Compote Mould," by Brian Foster of Arlington, Texas
Click Here
TCGC Banquet Luncheon Presentation, "Carnival Family Trees, " by Tony and Mary Jo DeMichael of Taylorvile, Illinois
Click Here
March 20th Convention - Seeck Online Only Auction Results
Click Here