Convention
The Texas Carnival Glass Club holds its annual four-day convention in March. Events include educational seminars and banquet program featuring internationally known speakers, carnival glass displays, silent auction, dealers and club members selling carnival glass, and a public auction of Carnival Glass.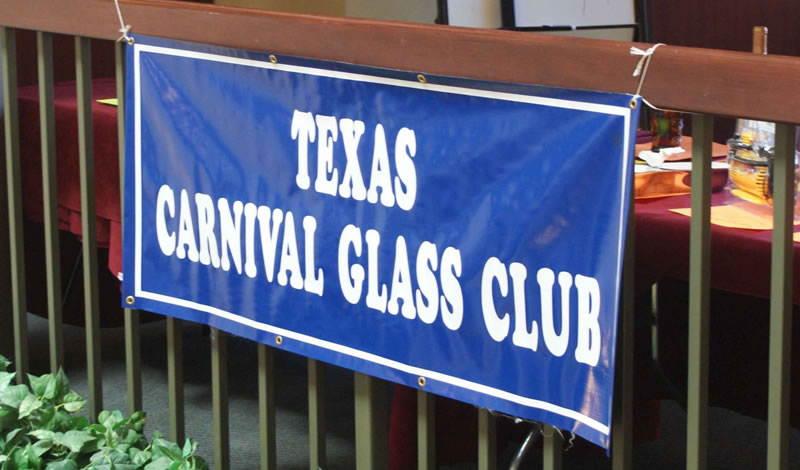 TEXAS CARNIVAL GLASS CLUB 2022 CONVENTION
March 16-19, 2022 – Sonesta Dallas Suites – Park Central, Dallas, Texas



LODGING
Please Note: To ensure that you are part of our room block, and will be assigned a room on the TCGC Convention floor, please book your room directly with the hotel (see instructions below).
Convention Hotel: Sonesta Dallas Suites - Park Central, 7800 Alpha Road, Dallas. Located at the Northwest corner of LBJ Freeway (I-635) and Coit Road, all suites have a separate bedroom and parlor area and a large picture window for displays.

Room Rates:
Single or Double - $119 (plus tax)
Triple - $129 (plus tax)
Quadruple - $139 (plus tax)
Breakfast in the Café Biarritz is included in the guest room rate for up to two people per room.
Pet Policy: ADA service animals are welcome.
Display Tables: Tables are available for a one-time fee of $20 per table.

Reserve your Room
1. Call the Sonesta at 972-233-7600 (option 2) and tell them you are with the Texas Carnival Glass Club March 2022. Our group code is 03152022TCGC.
2. Reserve online by clicking this link: Texas Carnival Glass Club - Book Now!
3. Due to the limited number of double-bedded rooms please call the hotel directly if you need a room with more than one bed. Please note: The couch in the parlor area of each suite converts to a bed.
Hotel Deadline: Tuesday, March 1, 2022.

REGISTER FOR THE CONVENTION
Click here to download a convention registration/membership form. Print the form, fill it in, and mail it with your check to the address on the form.
download adobe reader

2022 CONVENTION EVENT HIGHLIGHTS
Wednesday, March16
Early Bird Fun Night
Dinner in the Hospitality Room
Share a recent find at "Show & Tell—A Texas Tradition"
Thursday, March 17
Our hilarious "Annual Gift Exchange"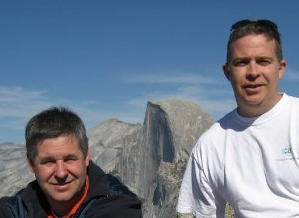 Educational Seminar by Gary Sullivan and Steve Lindquist, of Wethersfield, CT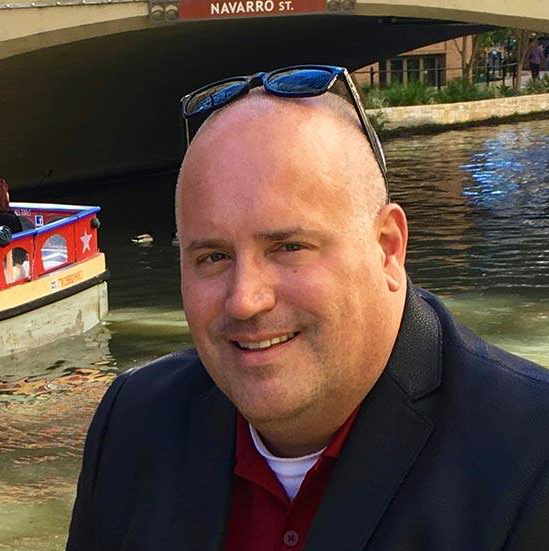 Whitley Award Dinner honoring our past recipients and our most recent award winner, Brian Foster, of Arlington, Texas. Tables with TCGC member's Whitley Glass pieces will be on display.
Friday, March 18
Voting closes – Vote for your favorite Room Display – Best of Show receives $100!
Silent Auction closes – Bid on and win your favorite pieces
Annual Business Meeting and Election of Officers
Seeck Auction Preview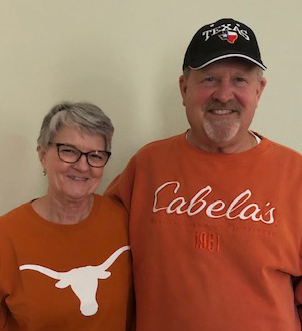 TCGC welcomes banquet speakers Tony and Mary Jo DeMichael of Aledo, TX
Saturday, March 23
Seeck Auction Preview and Auction

REGISTER FOR THE CONVENTION
Click here to download a convention registration/membership form. Print the form, fill it in, and mail it with your check to the address on the form.
download adobe reader
2021 TCGC CONVENTION RECAP
Although we were not able to have a traditional convention this year, we did hold a great in-person mini convention and auction in Brenham, Texas, March 19-20. A preview was held on Friday afternoon of the 350 piece auction brought by Jim and Jan Seeck. That evening Emmett and Dorothy Morgan hosted dinner at their home with at least 24 attending. Everyone had a great time and enjoyed both the meal and catching up with friends.

The auction on Saturday morning was well attended with 30 people in the auction room. We all thoroughly enjoyed the mooing of the cows during the auction at our Sales Facility. A FABULOUS pastel marigold Embroidered Mums bowl went for $1700 and many people in the auction room were asking who won it. It was won by Tommy and Jeannie Whitley who were not present for the bidding as they were scheduled for their second Covid shot on the day of the auction.

Following the auction we were able to show off our latest finds at a traditional Show and Tell. Everyone was invited back to the Morgan's home on Saturday evening for another dinner, libations and fellowship. Many thanks to Dorothy and Shirley Patterson for preparing and serving the dinners, to Jim and Jan Seeck for bringing a great auction, and to all who attended.

2021 CONVENTION SHOW AND TELL
Please enjoy the photos of our 2021 Convention Show and Tell participants and their glass. Click on (or hover your mouse over) the photos for more information.


2021 CONVENTION AUCTION PRICES
Click on (or hover your mouse over) the images below to see a few of the prices realized at our March 29th Convention auction. For a complete list of prices go to: https://seeckauction.hibid.com/catalog/268399/carnival-glass-online-only-auction--217---ends-mar-20---2021/
---
2020 Convention Recap
Just before we made the decision to pull the plug on our 2020 Convention we were contacted by TCGC member Brian Foster. Brian proposed that we leverage his expertise and technology to have the convention go virtual. This included having our annual Show & Tell event, a taped banquet presentation, a taped educational seminar, and a live conversation concurrent with Jim and Jan Seeck during our TCGC convention online auction. We think it was a huge success and the results are in the videos below. A big thanks to Brian & James Foster, Kathi & Galen Johnson, and Mary Jo & Tony DeMichael for taking this on and turning what was a monumental disappointment (due to Covid-19) into a new adventure with plenty of upside for all of us going forward.

2020 Convention Videos
What follows are videos of the live and taped events that were posted on our Texas Carnival Glass Club Group Facebook page.
"Show and Tell - A Texas Tradition"
Click Here
Educational Demonstration, "Christmas Compote Mould," by Brian Foster of Arlington, Texas
Click Here
TCGC Banquet Luncheon Presentation, "Carnival Family Trees, " by Tony and Mary Jo DeMichael of Taylorvile, Illinois
Click Here
March 20th Convention - Seeck Online Only Auction Results
Click Here