The Texas Carnival Glass Club
Dedicated to the open exchange of ideas and sharing of discoveries to educate others and encourage the collecting of, appreciation of, and future of Carnival Glass.

TCGC 2023 Convention
SAVE THE DATE for our 2024 convention: March 6-9 in Brenham, Texas, at the Washington County Expo Event Center. Check our convention page for more information as it becomes available.

Ask a Collector your Carnival Glass Question
Need an answer? Ask a Carnival Glass question here.

Newsletter Archives
Please visit our newsletter archives page featuring issues of our Carnival Glass Action newsletter from 2012-2019. This new feature encourages the open exchange of ideas and sharing of discoveries to educate fellow collectors. Click here.

Glass Artist Eric Hansen
View a presentation by glass artist Eric Hansen given at the 2015 TCGC Convention in Dallas. Click on the image below.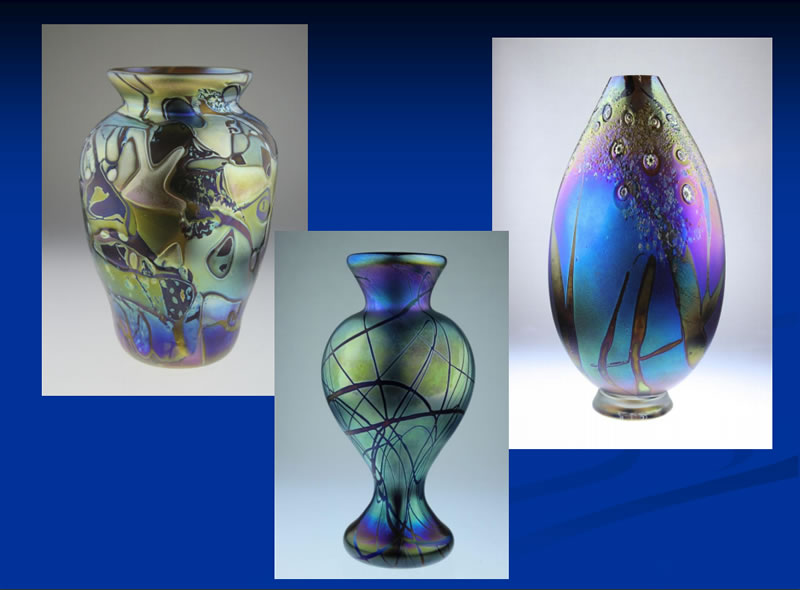 What is Carnival Glass?
The glass that has become known as carnival glass was produced by several manufacturers in the United States from approximately 1907 into the early 1930s. It is simply glass pressed in a metal mold and while very hot it is worked into many shapes using one of a variety of base glass colors. The piece is then iridized to produce a dramatic effect. Some of it was sturdy enough for home use while much of it was simply used for display to brighten a home. It was very inexpensive compared to the iridescent art glass made by Loetz, Steuben and others. Over the twenty plus years of production it became very popular due to its appearance, low cost, and availability. Late in this production period pressed iridized glass was being distributed to carnivals to be used as game prizes, thus ultimately earning the name "Carnival Glass." It also has been manufactured in many other countries. Currently collecting, identifying, and studying old carnival glass has become the foundation for numerous carnival glass clubs across many countries.
For more information about the History of Carnival Glass, click here for an article by Jerry and Carol Curtis. download adobe reader