Meetings
In addition to the Annual Business meeting held at our convention, our members host meetings at their homes in the summer and fall. Join your friends and fellow collectors for a relaxing meeting sharing exciting new Carnival Glass finds, enjoying refreshments, and discovering the amazing glass that our members collect.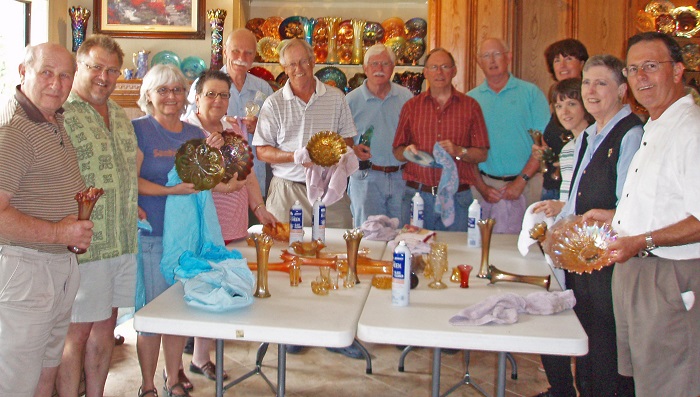 ---
Texas Carnival Glass Club Fall Meeting
Due to the ongoing Coronavirus health situation our October meeting will take place via Zoom.
Wednesday, October 28, 2020 at 7:00 p.m. CDT
Our summer meeting was lots of fun with a good number of participants and even some New-to-Zoom club members that joined us from Florida. It is a great way to keep in touch with our carnival glass friends and share the beautiful pieces we've been buying in spite of the ongoing pandemic.
The fall TCGC meeting will again be conducted via Zoom. This meeting is just a few days before Halloween so dust off your pieces that exhibit the color "Pumpkin" marigold or patterns that remind you of fall. Our emcee for the Show and Tell will be Elaine Blair, TCGC newsletter editor. In addition to screen shots that Brian Foster will take, be prepared to take individual photos of your pieces to email to Elaine (elaineblair@att.net) for the Carnival Glass Action newsletter.
Schedule of Events
7:00 p.m. CDT, Wednesday, October 28, 2020
TCGC Meeting and Show and Tell – Brief announcements PLUS share your " "Pumpkin" marigold pieces or fall patterns. (2 pieces per person limit)
Watch for an email later in October with a link that will connect you to the Zoom meeting.
Meeting link:
Meeting ID:
Password:
Find your local number: